Mytilini city rent a car station
Mytilini is the main port and metropolis of Lesvos island, home to about 25000, sprawls between and around two broad bays divided by a fortified promontory, and in Greek fashion often doubles as the name of the island it self. The main street, Ermou, links the town center with the little- used north port and crumbed breakwater of Epano Skala, following the course of a canal that used to join the two ports until the Byzantine era.
Beginning at one of the more vivid fish markets in the Aegean, Ermou forges north past several antique shops and the Yeni Tzami (New Mosque), once heart of the Muslim citizens. Just few steps east stand a superb Turkish hamam restored to its former glory.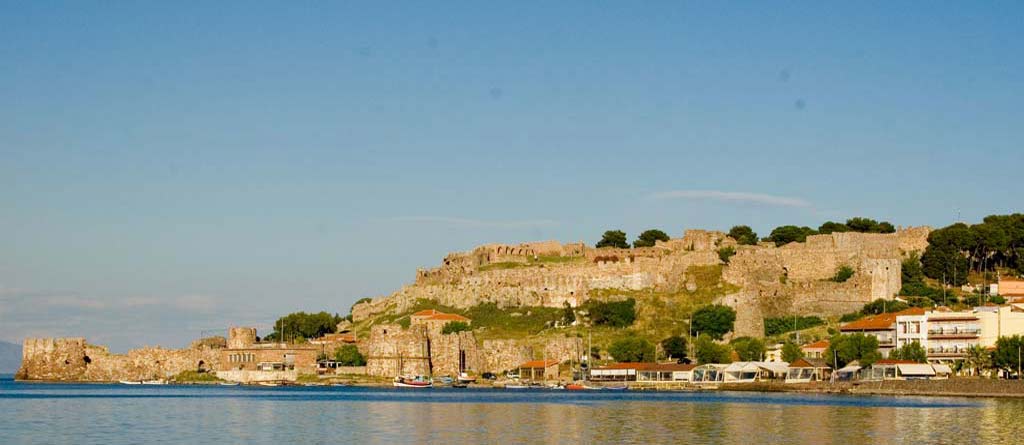 Between Ermou and the castle a maze of atmospheric lanes lined with grandiose Belle Époque mansions and elderly vernacular houses, though most of the ornate town houses are to be found in the southerly districts of Souradha and Kioski, on the way from Mitilini to the airport. 
Mitilini's skyline is dominated by two churches standing at opposite ends of the marketplace: the Germanic-Gothic spire of Agios Theodhoros and the mammary, Sacra - Coeur- ish dome of Agios Therapon are imposing if contrasting expressions of the nineteenth-century Ottoman-Greek bourgeoisie's post-Baroque taste.
The well-lit and well-laid-out Byzantine Art Museum, just behind Agios Therapon, contains various icons rescued from rural island churches. On the promontory between the bays sits the Byzantine-Genoese-Ottoman fortress, its mixed pedigree reflected in the Ottoman-Turkish inscription immediately above the Byzantine double eagle at the southern outer gate. Inside you can make out the ruins, variously preserved, of the Gatteluzzi palace a Turkish medresse (Koran academy), a dervish cell and a Byzantine cistern.
Just below the fortress, at Tsamakia is the town beach. Tucked away on the westerly hill, the Hellenistic theatre proves resoundingly anticlimactic on arrival; most of its masonry was pilfered for use in the castle to plaster in Ottoman lime kilns. Mytilini city rent a car station
Mytilini city
This email address is being protected from spambots. You need JavaScript enabled to view it.